The Pineapple Project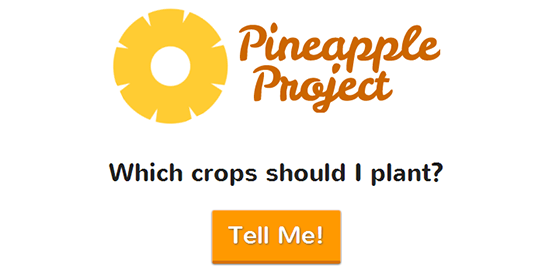 "Best use of payments API" award from PayPal

The Pineapple Project is an application that helps subsistence farmers in developing nations make informed decisions on which crops to plant. Due to the scarcity of information available, farmers risk planting a less optimum species or variety of crop, exhausting limited land and resources needed to support the farmer's diet or income.
The Pineapple Project works by geo-locating the user to determine basic planting conditions such as expected rainfall, temperature, humidity, altitude, and other variables. The user can also refine the information by inputting information specific to their land plot, such as soil type, incline, and amount of shade. The application uses this data to generate a ranking of the crops most likely to be viable, allowing the farmer to make a more informed planting decision.
I worked with a team on this project during a 24-hour hackathon at AngelHack Toronto, using a rapid-development strategy that allowed us to ship the product on three platforms (web, mobile HTML5, and iOS) while still maintaining the attention to detail present in a high-quality product. My role involved designing and coding the public landing page on the web platform in order to drive downloads of the mobile app.
Source code on GitHub.