Grocery Match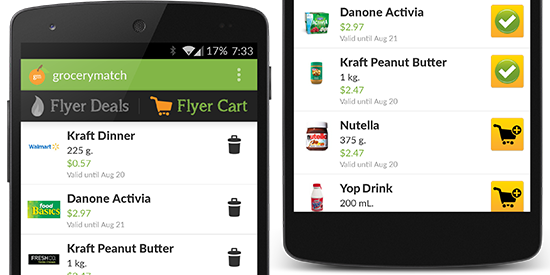 Grocery Match is an Android app I developed for a client in Toronto. The app lists weekly deals at Canadian grocery stores, and you use the app to get discounts on the featured products based on the store's price matching policies.
The app gets its data via an API that connects to a Ruby on Rails backend. This was the first native Android app that I made for a production environment, and I was excited to manage the entire product lifecycle with the client. After I helped the client identify the business case for creating an Android app, I worked with the client through the entire process: from design, to coding, to deployment.
I can vouch for Bill in that he is one of the most talented full-stack programmers that I know. He takes a pragmatic approach to his design of code that optimizes the workload of the developers while providing excellent functionality for the user.

With his diligent approach to all aspects of the application, Bill was communicative with our team and often offered best practice solutions to the problems at hand, as well as solutions to problems which potentially may present themselves as obstacles down the road. He has the ability to see the application and business from a "big picture" perspective due to his extensive knowledge in computer programming and ability to communicate with his peers in both a technical and non-technical capacity.

Bill has a great knowledge of the latest technologies and has adapted to the mobile development space at lightning fast rate which has left a permanent good impression in my mind. He can work on any technology and development environment and will be a great asset for any organization.